Gator Humans versus Zombies invites you back onto the battlefield one last time this semester for our Semester Finale PvP Day! This time, the game modes we'll be playing are decided by you, so if you haven't done so already go vote for what you want to play here, and join us at Dickinson Courtyard from 2 to 6 pm on Sunday, April 18th. Loaner blasters will be available upon request. The event will be followed by our Spring E-Board Elections.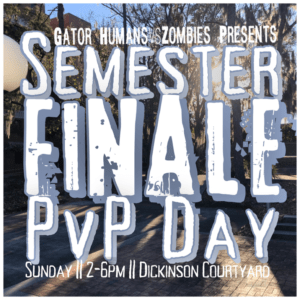 The rules for our PvP Day are as follows:
Masks must be worn at all times. If you must remove your mask during the event you must leave the play area and separate yourself from all players by at least 10 feet.
You must keep at least a 6-foot distance between yourself and all other people. If you get within 6 feet of another player by accident, you must immediately stop play and separate yourselves before resuming play. If a Moderator sees you within 6 feet of another player they will remind you of this rule and if you begin to pose a safety risk they may ask you to leave the game. You can read our full safety rules here.
You may bring your own blaster but it must conform to our Blaster Modifications Guide. If you do not have your own blaster you can mark that on your registration and we will provide you with a loaner.
We will do a full safety and gameplay briefing at the start of the event, so please arrive on time or up to 15 minutes early.
You must bring a photo ID to the event so we can check that you have registered. You will either have to show your status as cleared to return to campus or a negative COVID test when you check in, or email them to us in advance.
We do allow walk-ons, but you must register here before you may begin play and will still need to show your COVID cleared status.
We'll see you on the battlefield!