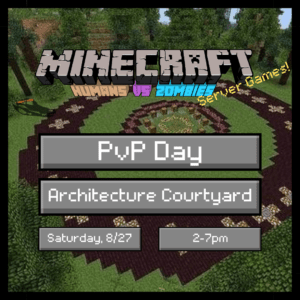 Gator Humans versus Zombies is thrilled to welcome you back on campus with a PvP Day! Play in a series of exciting nerf battles inspired by your favorite Minecraft Server game modes! Join us from 2-7pm on Saturday, August 27th at Architecture Courtyard for an action-packed semester kickoff. As always, loaner blasters will be available upon request.
Gear Rules:
FPS Limit: 120 fps average, 130 hard cap.
ROF Limit: 8 dps average, 10 dps hard cap.

Variable ROF blasters are allowed if they cannot go above that cap.

Note: one game mode will not allow you to use your own equipment, so we recommend bringing a bag to store your supplies.
Full game rules will be explained prior to each game mode.
Register with the form below to let us know you're coming!