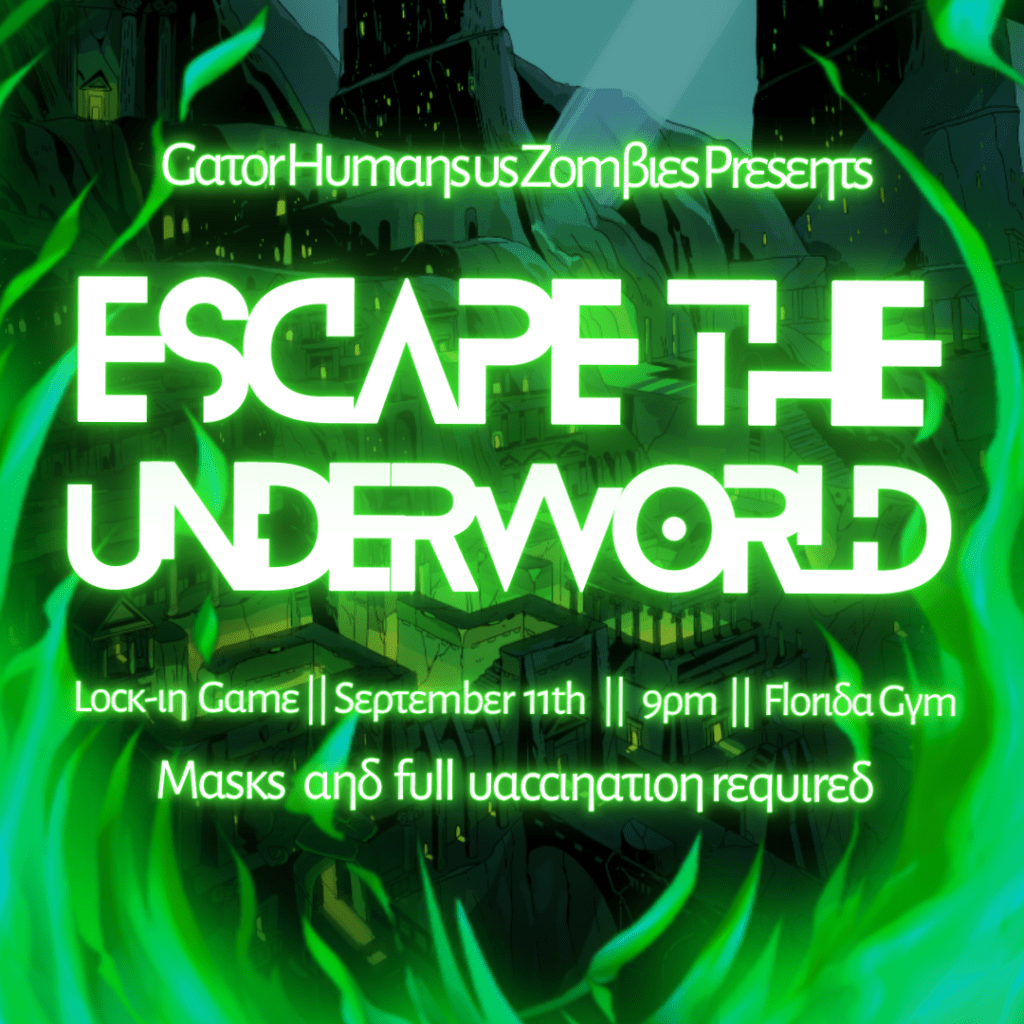 Welcome, my children, to the Underworld.
I am Hades, Lord of the Dead.
Join me the night of September 11th for Gator Humans vs Zombies' first event of the fall semester. This event will be an overnight lock-in game held in and around the Florida Gym.
Gators Humans vs. Zombies is an on-campus game of nerf tag in-which humans team up to defeat the zombie horde and complete objectives. With an immersive storyline that continues between missions with clues and power-ups, players will be faced with harrowing challenges and diverse characters who could be either friend or foe. I may even persuade you into making a deal or two. This game is a great way to spend time with your friends, make new ones, relieve stress, exercise, and most importantly, have fun!
Will you make it out of my underworld with your life, or will you become an undead shade forever? As a lock-in, this event will be held in and around the Florida Gym and take place over just one night.
Register with the form below to obtain your ticket past Cerberus and through the River Styx. I will also contact you soon with more information.
Even in the Underworld, safety is important. My safety rules are as follows:
Due to safety concerns, space in certain sections of the event is limited, so please arrive early if you want to experience every element of the game.
Because HvZ involves tagging, masks must be worn at all times during play. If you must remove your mask during the event you must leave the area of active play and separate yourself from all players by at least 10 feet.
You must bring a photo ID to the event so we can check that you have registered. You must present your complete COVID vaccine record card and pass a temperature check before you enter the building, and if you are traveling from out-of-town (outside Gainesville) you must provide a negative COVID test from within 96 hours of the game when you check in.
All blasters must be under 130 fps and follow our Blaster Modifications Guide. Moderators will check modded blasters on our chronograph during the rules meeting. If you do not have your own blaster you can mark that on your registration and we will provide you with a loaner.
We will do a full safety and gameplay overview at our mandatory rules meeting, which will be held at the beginning of the lock-in (9pm) at Weil Hall room 270.
Care to make a deal?