Join Gator Humans vs Zombies the week of November 15th – 20th for our week-long Nerf Tag main game! Work together with the Gods of Asgard and face off against the Armies of Hel in Ragnarok, the Twilight of the Gods. Will you survive this mythic quest and prevent the destruction of Asgard – or will you forever be trapped in an apocalyptic loop?
If you've never played in humans versus zombies before, it's a campus-wide game of Nerf tag where humans try and survive and defend themselves with Nerf blasters against zombies who try and tag humans and grow their horde.
Register with the form below to let us know you're coming, and to receive information and updates through your email as we release them.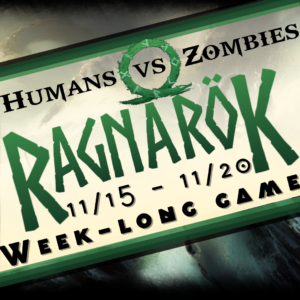 There will be Mandatory Rules Meetings for the game. You must attend one of these in order to register for the game and receive your kill ID, bandanna, and loaner blaster if needed.
Friday @ 6pm | Reitz Union Room G330
Saturday @ 2pm | Reitz Union Room G330
Sunday @ 2pm | Reitz Union Room G330
Monday @ 6pm | McCarty B Room #0100
In addition, there will be an online rules meeting for our out-of-town players on Sunday night at 6pm over Zoom.
The Mission Schedule is included below (Times may change due to weather)
Mission 1 – Monday @ 10pm
Mission 2 – Tuesday @ 7pm
Side Mission #1 – Tuesday @ 10:30pm
Mission 3 – Wednesday @ 10pm
Mission 4 – Thursday @ 7pm
Mod Hunt – Thursday @ 10:30pm
Mission 5 – Friday @ 7pm
Side Mission #2 – Friday @ 10:30pm
Mission 6 – Saturday Day @ 11am
Mission 7 – Saturday Night @ 6pm
Our Safety Rules are as follows:
Because HvZ involves tagging, masks must be worn at all times during play. If you must remove your mask during the event you must leave the area of active play and separate yourself from all players by at least 10 feet.
All blasters must be under 130 fps and follow our Blaster Modifications Guide. Moderators will check modded blasters on our chronograph during the rules meetings. If you do not have your own blaster you can mark that on your registration and we will provide you with a loaner.
We will do a full safety and gameplay overview at our mandatory rules meetings. You only need to attend one in order to play.
You must bring a photo ID to the missions. You will either have to show proof of full COVID vaccination or a negative COVID test from within 5 days of the game when you check in at a rules meeting.
If you are traveling from out-of-state, you must present a COVID test from within 3 days of when you arrive at the game, regardless of COVID vaccination status.