Gator Humans versus Zombies invites you back to the battlefield once again for our Halloween Blast PvP Day! We'll be playing some spooky new game modes on the Reitz Union North Lawn from 2-6pm on Saturday, October 30th. Costumes are encouraged, and loaner blasters will be available!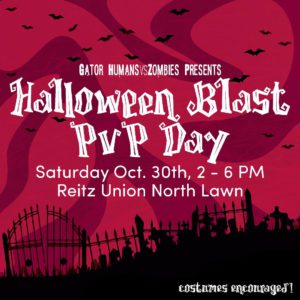 The rules for our PvP Day are as follows:
COVID Masks must be worn at all times. If you must remove your mask during the event you must leave the play area and separate yourself from all players by at least 10 feet.
Your costume may include a full facemask, but you may only wear it while at the event.
You may bring your own blaster but it must conform to our Blaster Modifications Guide.
We will do a full safety and gameplay briefing at the start of the event, so please arrive on time or up to 15 minutes early.
You must show a negative COVID test from within a week or proof of full vaccination when you check in to the event.
We do allow walk-ons, but you must register here before you may begin play and will still need to show your COVID cleared status.
We'll see you for the Halloween Blast 👻!