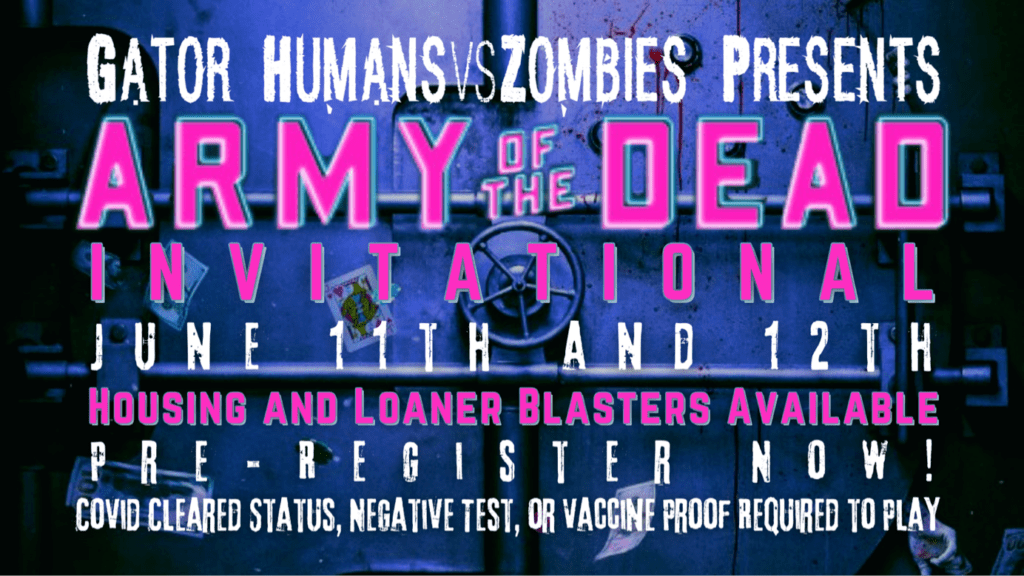 Join Gator Humans versus Zombies at the University of Florida on June 11th and 12th for our first Summer Invitational of 2021, Army of the Dead!
Register with the form below to let us know you're coming, and to receive information and updates through your email as we release them.
Mandatory Online Rules Meeting Schedule (You only need to attend one):
7pm Wednesday June 9th
7pm Thursday June 10th
3pm Friday June 11th
Mission Schedule (Time and Location subject to change upon planning and weather):
7pm Friday June 11th: Mission 1 Briefing
12am Saturday June 12th: Mission 2 Briefing
11am Saturday June 12th: Mission 3 Briefing
3pm Saturday June 12th: Side Mission Briefing
7pm Saturday June 12th: Mission 4 Briefing
Our moderators are fully vaccinated and are happy to let out-of-town players crash in their living rooms. This housing is available on a first-come first-served basis, so let us know if you would like to do so and we'll let you know if space is still available.
Our Safety Rules are as follows:
Because HvZ involves tagging, masks must be worn at all times during play. If you must remove your mask during the event you must leave the area of active play and separate yourself from all players by at least 10 feet.
All blasters must be under 130 fps and follow our Blaster Modifications Guide. Moderators will check modded blasters on our chronograph during mission 1 briefing. If you do not have your own blaster you can mark that on your registration and we will provide you with a loaner.
We will do a full safety and gameplay overview at our mandatory rules meetings, which will be held virtually on Wednesday and Thursday nights at 7pm, and Friday at 3pm. You only need to attend one in order to play.
You must bring a photo ID to the event so we can check that you have registered. You will either have to show your status as cleared to return to campus (for UF students), your covid vaccine record card, or a negative COVID test when you check in.