The multiverse is in danger!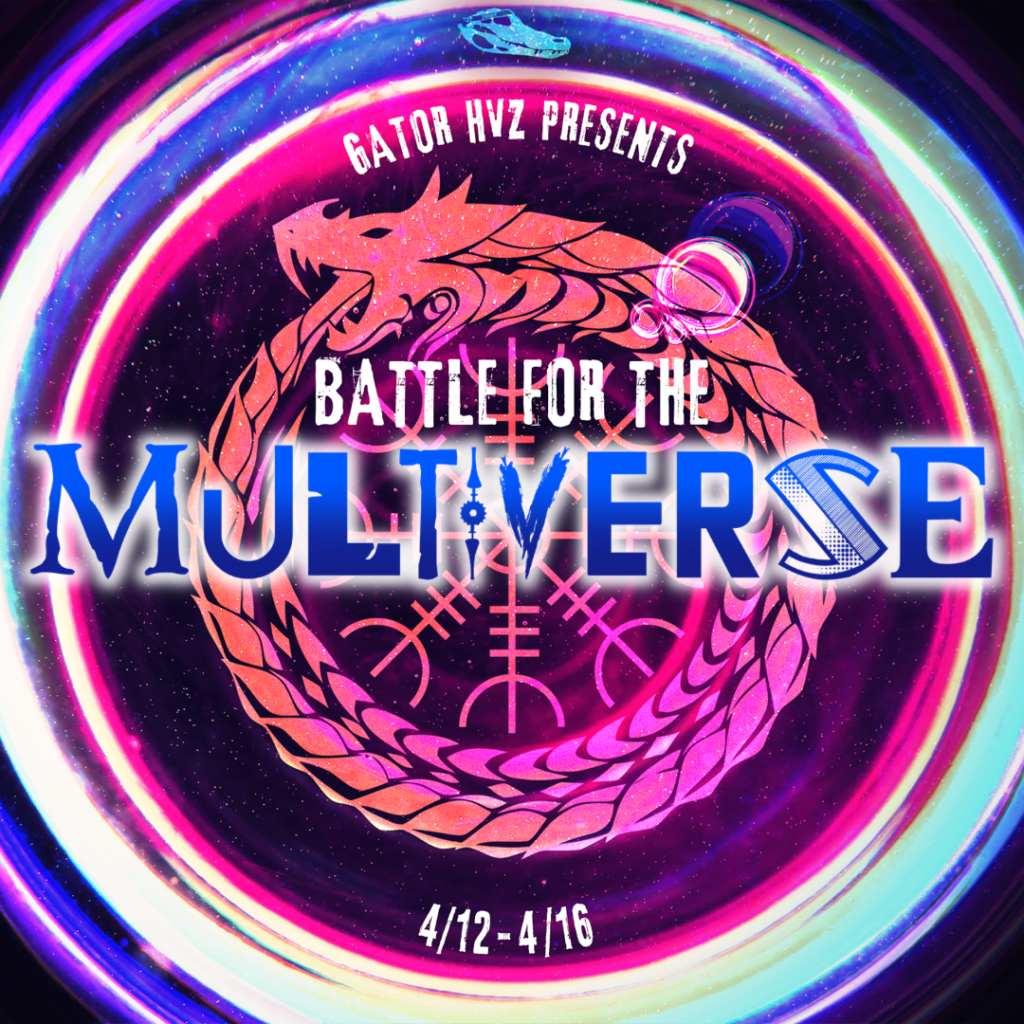 When worlds collide, The Central Organization for Interdimensional Logistics (COIL) is the only barrier between your universe and utter chaos. To save your world, join the agents of COIL for nightly missions from 4/12 to 4/16 in Gator Humans vs Zombies' Battle for the Multiverse week-long HvZ game!
You've trekked through time, fought an army of the dead, sailed the seven seas, escaped the underworld, survived deadly children's games, broken an apocalyptic loop, busted invading ghosts, and descended into hell… but that's only the beginning of your trials. Ready your nerf blasters and prepare for your most intense battle yet! Will you be able to fight off a horde of existence's most terrifying threats — and your fellow players — in order to save the multiverse?
If you've never played in humans versus zombies before, it's a campus-wide game of Nerf tag where humans try and survive and defend themselves with Nerf blasters against zombies who try and tag humans and grow their horde.
COVID Vaccination is mandatory for participants, and masks are welcome throughout the game.
Mission Schedule: (All mission times are subject to change)
Mission 1 – Tuesday, 8pm
Mission 2 – Wednesday, 8pm
Mission 3 – Thursday, 8:30pm
Side Mission – Thursday, 10:30pm
Mission 4 – Friday, 8:30pm
Mod Hunt – Friday, 10:30pm
Side Mission – Saturday, 12pm
Mission 5 – Saturday, 3pm
Dinner – Saturday, 5:30pm
Mission 6 – Saturday, 8pm
Register with the form below to let us know you're coming, and to receive information and updates through your email as we release them. You will have to attend one rules meeting prior to the game.
Zoom link for rules meetings: http://18.189.23.147/zoom
All rules meetings are virtual through zoom. Rules meeting Schedule:
Thursday 4/7 – 6pm
Friday 4/8 – 6pm
Saturday 4/9 – 2pm
Saturday 4/9 – 8pm
Sunday 4/10 – 6pm
Monday 4/11 – 6pm
Tuesday 4/12 – 5pm