I have come to lead you to the other shore; into eternal darkness; into fire and into ice…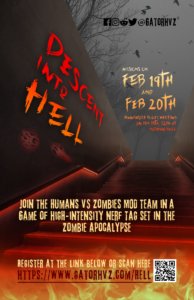 Join the Gator Humans versus Zombies Mod Team in a Descent into Hell! Navigate the deepest levels of Hell, evade Lucifer, and rescue the souls of damned. Come play in a series of missions over the weekend of February 19th and 20th in this special weekend game of Humans versus Zombies.
Will you best the Devil and escape from Hell? Or will you become yet another lost soul? Register here to be able to play and receive more info as we announce it!