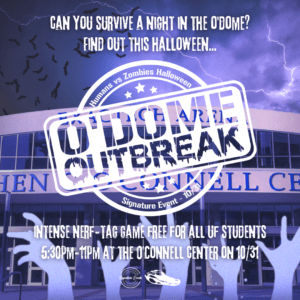 This Halloween, join Gator Humans versus Zombies and SAI for UF's largest, most ambitious HvZ game ever! Venture into the tight, winding corridors and once-boisterous stadium of the O'Connell Center as you face hordes of zombies and fight to save humanity with nothing but your wits and a nerf blaster. The battle begins at 5:30pm on Halloween Night, Monday 10/31. Will you survive the apocalypse — or will you too join the ravenous undead?
This event is only open to current UF students and will be limited to loaner blasters only. Feel free to arrive or leave anytime between doors open at 5:30pm and the end of the event at 11pm!
Full rules and registration information can be found on the event page here!